Operation Pets Alive!
Latest News
Donate to OPA Transport Programs
OPA averages two 'Pups on Trucks' transports and one 'Flight for Life' a month. Help us keep the wheels turning so we can continue to save precious lives. Donate here
3000+ Transported homeless pets
That's right! In January 2016, OPA celebrated its 3,000th homeless pet transported via our combined 'Pups on Trucks','Flight for Life', and 'Kittens with Wings' transports! Thank you to Tom Martin for designing our celebratory image!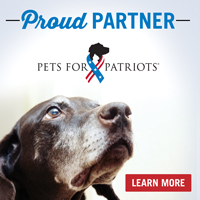 Operation Pets Alive is a proud adoption partner of Pets for Patriots, a nationally operating 501(c)(3) charity saving lives through companion pet adoption for United States veterans. Click the badge to learn more!
Our OPA Barn Cats prefer life a little on the wild side. All while helping to keep pesky critters away from your barns, warehouses, and outbuildings. To adopt a Barn Cat, email: deanna@operationpetsalive.org
Flight for Life in the news
Check out the news coverage in San Diego on the latest flight for life!
click here to view
OPA in the news
Libby, one of OPA's long term fosters, gets a second chance as a police dog! for more information click here

Shop our OPA Etsy Store for beautiful hand-crafted items. For you, your home, and your pet! All meticulously designed by our OPA volunteers!
Help OPA by walking!
Go for a walk and earn money for OPA to help homeless pets! It's easy! Download the app, select Operation Pets Alive! And start walking." (Take your dog - he or she will love it!) www.wooftrax.com


Barkbox
Get $10 off any BarkBox subscription and support OPA! For every coupon used on BarkBox.com, OPA will get a $10 donation from BarkBox. Be sure to use our special promo code: OPABBX1 Help us meet our goal of 100 subscriptions and raise $1,000